The Gaatkensbult is an artificial hill in Carnisselande near Barendrecht, the Netherlands. During the construction of the Jan Gerritspolder Dike along the Oude Maas river in the early 2000s, a 15 meter tall hill was built atop a section of the dike, and they placed a public art piece at the top of the hill. The public art piece originally (2006) was a large concave mirror, this however concentrated sunlight and caused a number of issues, so in 2009 they replaced it with a convex mirror.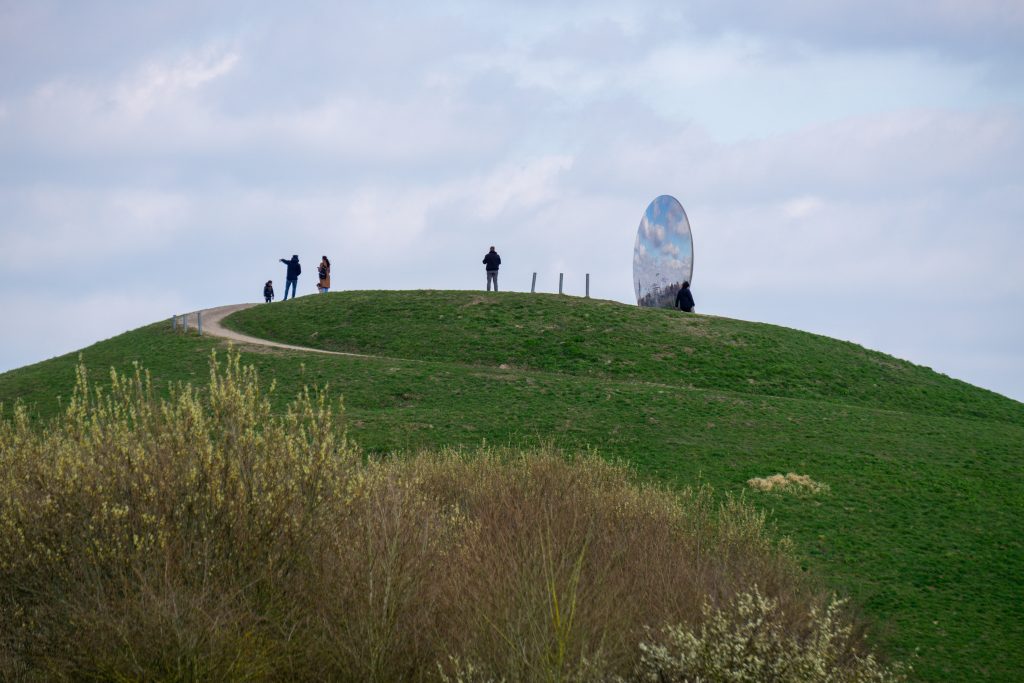 My husband and I rode our bikes south from North Rotterdam to the Gaatkenspult, taking advantage of the large bike road network and avoiding the tram. We parked our bikes at a bike parking area on the west side of the site, and walked around the trails surrounding the hill. Along the outer trails there are some unofficial paths down to the Oude Maas river bank, these are probably used by fishermen.
The peak of the hills sits almost 25 meters above sea level, and you can see the skyline of downtown Rotterdam if you face north, and facing south you can look over the Oude Maas and see the province of Zeeland.
The Netherlands has a lot of open GIS data available, and a convenient data viewer at pdok.nl. I retrieved the aerial LiDAR data for the Gaatkensbult area, built a digital elevation model, made some hillshades, contours, and vegetation canopy models from the LiDAR data. I brought the LiDAR data together with Open Street Map data and made the following map of the Gaatkensbult hill and surrounding park area.